I'm taking a little detour on my content to invite you to put some purpose to my bike rides. Typically I consider cycling to be a mental health activity (I'd rather pay my local bike shop than a counselor – sorry to my friends who professional counselors, they also do fine work).
Last week at the Christian and Missionary Alliance Convention I signed up for RIDE 2012 – a cross country ride to raise money for ministries and churches doing work in Canada's inner-cities. I figure this is a great fit for me: cycling, inner-city ministry & fundraising!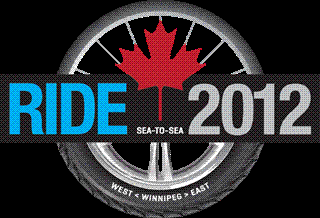 There's a few ways you can join me:
1. Sponsor me: do it online here. Do it before July 31 and I'll put your name in a draw for a T-Shirt or a bike tune up (done by me). You'll need to make your name public to be in the draw (the amount will not be public).
2. Ride with me: Saturday & Sunday mornings, I'll leave my place about 6AM – ride the whole thing (2-3 hours) or meet me on route.  Just leave a comment and I'll let you know my route.
3. Raise your own pledges! Join my team.
My goal is to ride 100km each weekend for the next 3 weekends.  Want to join me?